Best Wishes for the New Academic Year for Teachers: Looking for Welcome Back to School Messages for Teachers? Below we have compiled some of the Best Wishes for the New Academic Year for Teachers. These messages will inspire them after the summer holiday.
Best Wishes for the New Academic Year for Teachers
Thank you for being a great teacher! Behind every prosperous student is a great teacher. Happy New Academic Year.
Hope the new academic year will bring you peace, success, and cheerfulness.
As we ring in another school year, I wish you productive life. Your skills as a teacher are exemplary.
With the new academic year here, it is clear that you are one of the best teachers I have ever met. I wish you the best academic year ahead. 
Happy new academic year to you my teacher! As I look forward to interacting with you I hope your New Year is rewarding.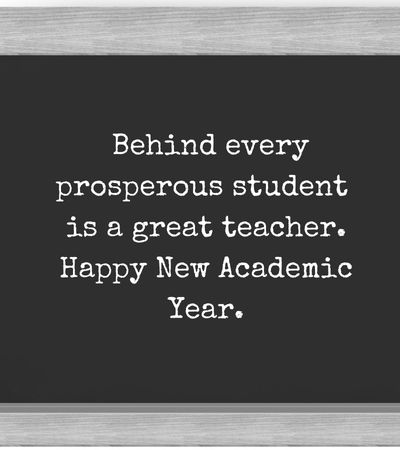 Best wishes to the most fantastic teacher. You have inspired and continue to inspire many students in our school. Wonderful academic year to you
May each student bring a different inspiration to you. Happy New Academic Year
You are a teacher with exceptional skills and I will be forever thankful to you for all you have taught me. Have a blessed New Year.
Best Messages for New Academic Year for Teachers
May this academic year be filled with lots of blessings and love.
Thank you, teacher. No amount of words can thank you for your unending concern. I pray for a fulfilling year for you.
In you, I see a mentor and good role model. Thanks for bringing a positive impact on my life. Blessed academic year to you
If I could select my teacher, I'd choose you over and over again—warm wishes for the New Year.
I appreciate the patience you have shown me during the time was in your class. I am better because of you. Best Wishes for the New Academic Year.
My new academic year will not be complete without wishing you the best academic times with your new students. All the best my teacher.
Having you as my teacher will always be memorable. Warm wishes and a prosperous academic year.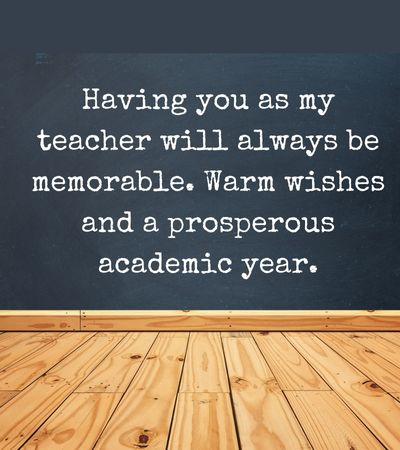 Read: Best wishes for new academic year for students
Back to School Wishes for Teachers
Welcome to school! You have great young minds to inspire and train. All the best.
It is another year to meet your new students. Be ready to leave an impact on their lives.
It's a new beginning, a fresh, bright year. I wish you a memorable year with your students.
The students are ready to open their minds and get knowledgeable. Hope you will enjoy the sessions you will have to make them better students.
You are the warrior in your class. May you lead your students through a successful year.
Welcome back to school teacher! May you have the best year.
Teaching is a great noble field. You have the chance to shape the future. Enjoy your time with your students.
As you begin a new school year, I hope you see your students blaze with new knowledge and abilities.
All the best as you prepare to start the year. Although the journey may look long you have what it takes to make it exciting. Welcome back to school teacher.
Another new year, life has presented us another opportunity to remain focused and do the best we can to impact the world. Cheers to a fruitful year.
Read: Welcome back messages for students
Inspirational welcome back to school for teachers
Welcome back to school, teacher. You still remain to be one of the best teachers.
May the new academic year present you with more opportunities to inspire your students.
You continue to impact the lives of your students in a special way. Welcome back to school.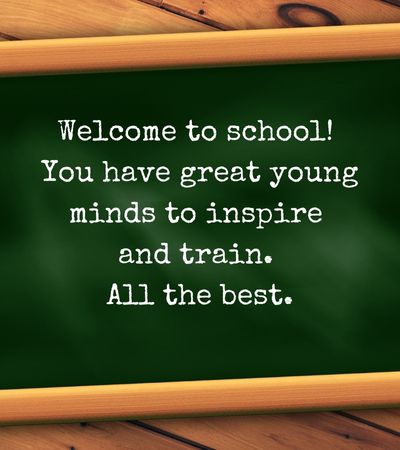 You are a teacher who will live to be remembered for the good work you do. Happy new academic year and welcome back to school
As you teach your students may you find fulfilling and joyous moments to inspire you more.
Your enthusiasm and inspirations have a way of making even the laziest student work hard. We appreciate your effort. Welcome back.
Thanks for being a fabulous teacher, we take this chance and welcome you back to school.  
The new academic year is promising and I wish you all the best as you continue to be an amazing teacher.
A teacher with lots of patience is not easy to find. Students are grateful to have you. Lots of blessings for the New Year and sincere thanks.
Your teaching skills are wonderful. Thanks for taking the time to care and share your knowledge in the best ways. Enjoy the New Year.
Read: End of The Year Message to Students
Welcome Back to School Message from the Principal
My dear teacher, Best Wishes to you for the New academic year. Many thanks for the outstanding and good work you do.
Welcome back to a better academic year. I am confident you will enjoy what the year holds for you as a teacher.
The great work you do is unimaginable. May this new academic year give you more patience and courage to achieve your best results. Welcome back
The next generation of leaders and professionals is waiting for you to impact their lives in one way or another. Best wishes to you.
As a teacher, your influence on the students' lives is greater than anyone can determine presently. Welcome back and wish you the best
Hope the summer holiday has allowed you to regain your strength and vigor. Feel welcomed and Happy new academic year to you.
The world is and will continue to be a better place if we continue to positively influence the young lives of school boys and girls. Cheers to a more fulfilling year.
Thank you for the previous year's outstanding performance, feel welcome for a better new academic year.
Conclusion: Best Wishes for the New Academic Year for Teachers
Teachers also need some inspirational welcome back to school wishes from either their students, fellow teacher, parents or school principal. Don't miss the chance to wish your favorite teacher a wonderful new academic year.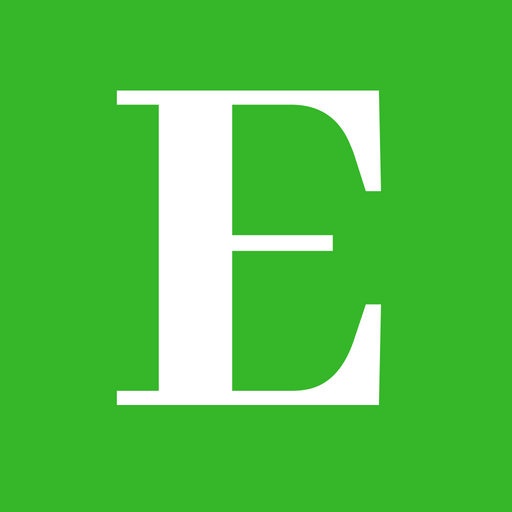 Betty is a qualified teacher with a Bachelor of Education (Arts). In addition, she is a registered Certified Public Accountant. She has been teaching and offering part-time accounting services for the last 10 years. She is passionate about education, accounting, writing, and traveling.