Welcome Back to School Messages, Wishes & Quotes: After the summer break or winter break, the thought of going back to school can be a bit boring. Having to attend classes, do assignments, and do other school activities may not be so appealing to students after a relaxing holiday. To motivate your students, your friends, or your classmates, we have looked at interesting welcome notes for students after vacation
Welcome Back to School Messages
1. Be determined. There is nothing better than seeing you come back and become better students. Feel welcomed.
2. Welcome to your first day at school, today you are allowed to familiarize yourself with your new teacher and classes.
3. Be ready to provoke your mind to seek new information. Real learning means paying attention and staying curious. I wish you a wonderful academic year!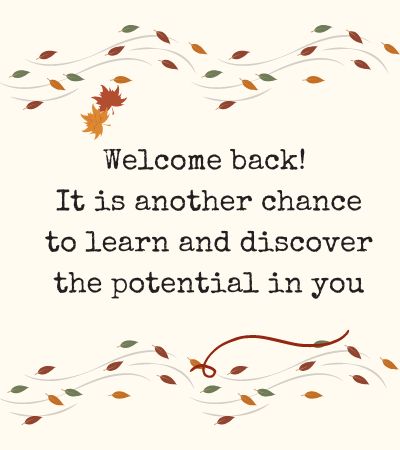 4. I would wish you luck, I know you are great students and I expect better results from you. All the best!
5. Back-to-school time is here with us! From your previous behavior and abilities, I know this year will be wonderful for all of us. Welcome back.
Read: Best Wishes for New Academic Year for Students
6. Back to school may seem a little scary, but it means being happy because you are now a step closer to finishing your education. Successful to you all. 
7. A new school year is here with us! I take this time and wish you the best in all the learning and activities you come through. Welcome to school.
8. It is a wonderful opportunity to come to school safe and sound after the holiday. Step out of the norm and do your best this academic year.
9. Welcome back, my students. I was impressed by your behavior last year and I hope this year will be exciting for all of us. Wish you the best.
Welcome Back Messages for Students
1. Welcome back! It is another chance to learn and discover your potential in you.
2. Hope the summer holiday was okay. Welcome to another session filled with lots of academic and non-academic activities.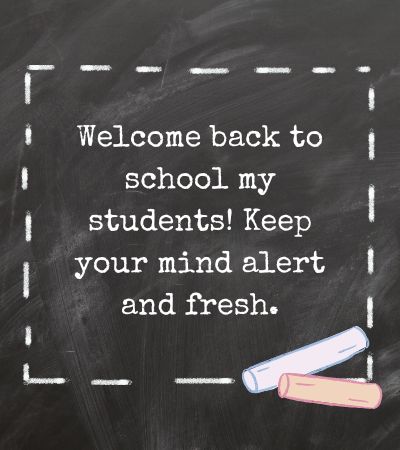 Read: New Year Wishes to Teacher
3. It is a joy to see you again. I trust you have relaxed enough and reserved lots of energy to attend school with a high spirit.
4. Welcome back to school my students! Keep your mind alert and fresh.
5. Be inspired by another opportunity to get some knowledge. Enjoy your first day at school!
6. A new year with new opportunities. Embrace every moment and never stop learning. Welcome back to school
7. As we start a new semester remember to work hard and smart. Welcome back
8. The results of hard work are often motivating. As you settle in your new classes embrace the important information to reach success. Have the best school year.
 Read: Best Wishes for the New Academic Year for Teachers
Back to School Messages for Students
1. The impressive thoughts of the holiday should now take a back seat in your mind. Welcome back.
2. You look radiant and happy after the holiday. Choose to remain inspired for the rest of the year.
3. You had your sessions to learn new things outside of a classroom setup. Now is the time to come and learn in class. Welcome back to school.
4. Wishing you a great year my students! I don't see anything that will hinder you from achieving your best.
5. Be ready to fight the killer of your dream. Do the best you can in this new academic year.
6. I take this time and wish you the best because I know you will need it. You now have the chance to advance your knowledge and abilities.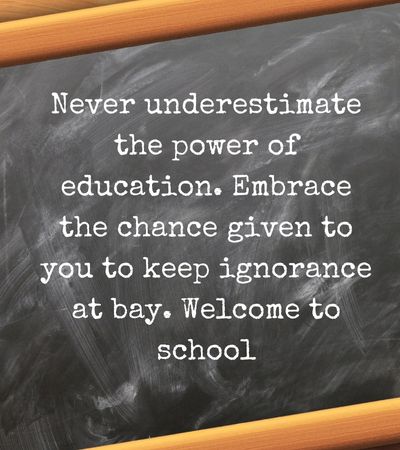 Read: Quotes to Inspire Students from Teachers
Back to School Wishes for Students
1. As you return to school, keep in mind that knowledge is like a lamp, it makes your life brighter.
2. Never underestimate the power of education. Embrace the chance given to you to keep ignorance at bay. Welcome to School
3. Be ready and set the stage for your school life. I wish you the best.
4. As you interact with education on a higher level may you meet the best teachers and make best friends. Welcome back to school.
5. May God keep you strong and healthy as you settle and start a new year.
6. Although I know you are physically and psychologically prepared to come back to school, a little good luck won't hurt either. Wishing you luck.
7. Welcome back from the holiday! Let's start our journey!
8. Best wishes for the new school year! Be ready to put on your best hardworking skills and effort. May success come your way.
9. Another period to start and learn new things. Be cheerful and welcome back to school.
Read: Back to School Memes
Welcome Back to School Message From teacher
1. Good luck my lovely students! Your eagerness and positive mindset will be sufficient to keep you inspired.
2. Wishing all our students another thrilling and fruitful school year! I hope you are equipped to begin the forthcoming session with aspiration and energy.
3. I am glad to see you again. The school is now lively from your happy smiles. Let us start our classes with a stress-free mindset. Welcome, dear students!
4. Don't let any negative thoughts blur you from achieving your dreams. By the end of the school term, you will be glad about what you will have learned.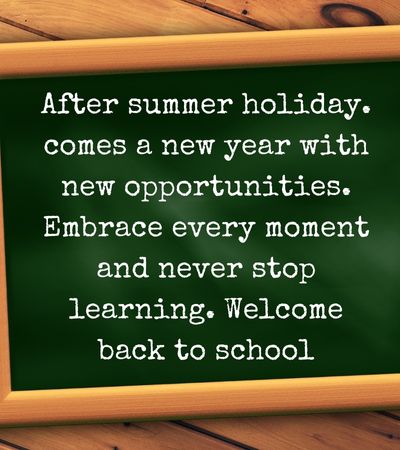 5. Best wishes for resuming school. You have the chance to make your parents and teachers proud of you. Welcome to school.
6. Wishing you good luck my dear students! May you stay self-driven until the end!
7. Education calls for someone to be patient. Never fear to ask what you don't know. Be ready to learn from your teachers.   
Welcome Back Quotes for Students
1. "The best way to predict your future is to create it." – Peter Drucker
2. "Challenges are what make life interesting, and overcoming them is what makes life meaningful." – Joshua J. Marine
3. "The will to win, the desire to succeed, the urge to reach your full potential… these are the keys that will unlock the door to personal excellence." – Confucius
4. "Dream big and dare to fail." – Norman Vaughan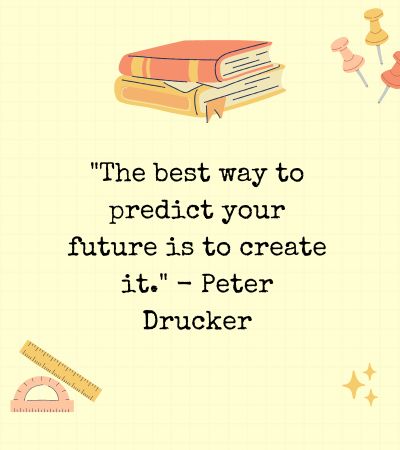 5. "Don't watch the clock; do what it does. Keep going." – Sam Levenson
6. "It always seems impossible until it is done." – Nelson Mandela
7. "The only way to do great work is to love what you do." – Steve Jobs"You are capable of more than you know." – Unknown
Read: Happy New Year Wishes for Students
Conclusion: Welcome Back to School Messages, Wishes & Quotes
The above messages welcoming students back to school will go an extra step in ensuring the students feel more relaxed as they resume back. Our welcome back messages for students after summer break are unique and inspirational. After the holiday, you can be assured some students will feel homesick while others will have holiday blues. If you are looking for the best message to welcome them back, then the above messages will be befitting.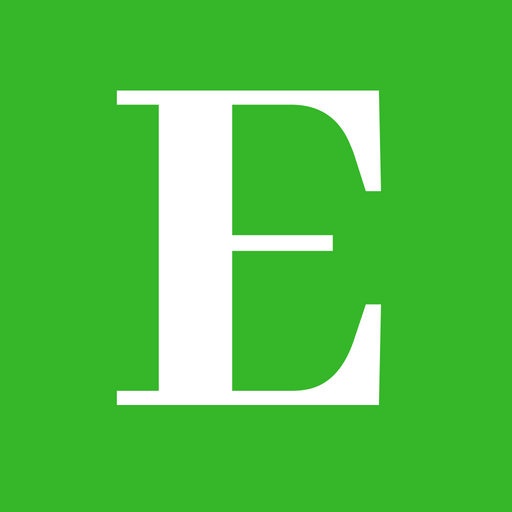 Betty is a qualified teacher with a Bachelor of Education (Arts). In addition, she is a registered Certified Public Accountant. She has been teaching and offering part-time accounting services for the last 10 years. She is passionate about education, accounting, writing, and traveling.