Happy Children's Day Message from Teachers: World Children's day is celebrated every year to promote awareness and create better children's welfare. As a teacher, you can make this day relevant by sending your student inspirational children's day messages. To help you come up with the best children's day message go through below messages
Happy Children's Day Message from Teachers
1. Happy children's day, I celebrate you for being outstanding students. Thank you for making my work enjoyable
2. I am proud to have interacted with you, I know you have a lot to accomplish. Have a wonderful children's day
3. Happy children's day! The future looks bright having great kids like you. Your dreams are valid and keep on being positive.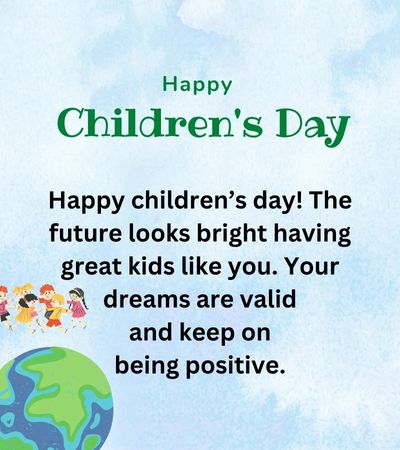 4. On this special children's day, I want you to know as your teacher I am ready to give the guidance and support you need to achieve your dreams. Enjoy this wonderful children's day
5. Your talents, creativity, and willingness to learn to portray that nothing can limit your success. There are lots of marvelous things waiting to be discovered by you. Happy children's day
Read: Independence Day message to Students
6. Happy children's day to you all, always keeps in mind that you are special and unique, and I wish you a prosperous future.
7. Being young allows you to discover, learn, and succeed at the same time. Let nothing hold back your potential. Happiest children's day to you
8. As a teacher, together with your parent we are committed to ensuring you become great people who can help to make our world better. Have an exciting children's day
9. Happy children's day dear students, I wish you a fun-filled day with lots of insights and inspiration to help you become better each day.
Read: National Girl Scout Day Messages
Happy Children's Day Wishes Messages for Students
1. Happy children's day to you my students, always be positive and choose to be a star, forever shining in brightness.
2. You are a beam of light and you are the most valuable people waiting to unveil the future, have a memorable children's day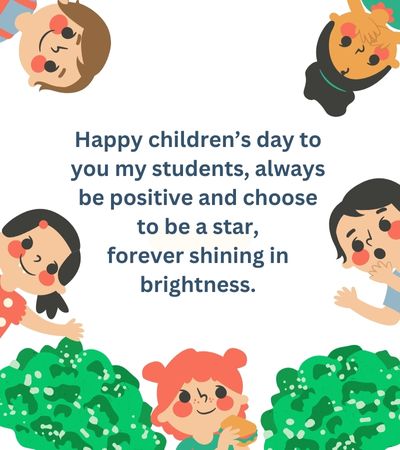 3. On this children day, never forget to look for greatness in all things that you come across. If you do so, you'll make history.
Read: Holiday Message to Students from Teacher
4. As children you are gifts from God and you have a hopeful God-given future. Have an enjoyable children's day
5. You are created with the potential to achieve special task, be open minded, and always work hard
6. Warm wishes to you on this children's day, may your journey to self-discovery lead you to opportunities that will make you great.
7. My life as teacher is made special by having wonderful students like. I am wishing you a joyful children's day
8. Happy children's day! My wish and plans is that I will nurture and unfold your potentials and talents so you impact the future positively
9. It is another children's day when you should celebrate being young, energetic, and with a promising future. Cheers as you enjoy the day
10. To all the students, I wish you a very Happy Children's Day. May you continue to work hard and be committed to the things that have a positive impact in your life
Read: Summer Vacation Wishes for Students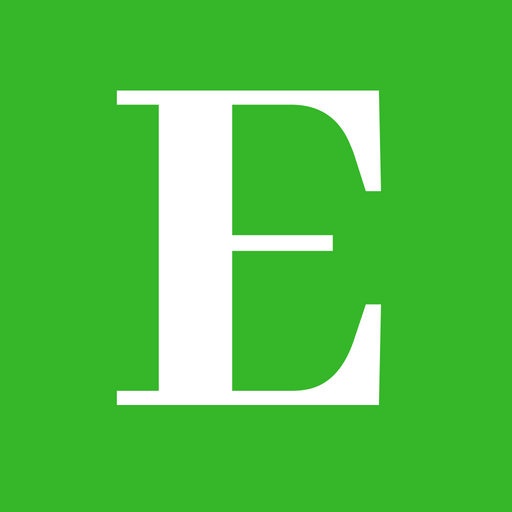 Betty is a qualified teacher with a Bachelor of Education (Arts). In addition, she is a registered Certified Public Accountant. She has been teaching and offering part-time accounting services for the last 10 years. She is passionate about education, accounting, writing, and traveling.