New Year Wishes to Teacher: As we usher in the new year, don't miss the chance to send your new year's messages to your favorite teacher. Below we have compiled the best new year wishes that can be sent to your high school teacher, college, or university professor.
New Year Wishes to Teacher
1. Happy new year to one of the best teachers. May your new year be the best.
2. Thank you for always inspiring us to become better students, we trust your new year is going to be great. Happy new year teacher
3. Happy new year dear teacher will always appreciate your kind words
4. During my school life, I must admit you are one of the most inspiring people in my life. Wishing you the best in the coming year.
Read: Short Meaningful Inspirational New Year Quotes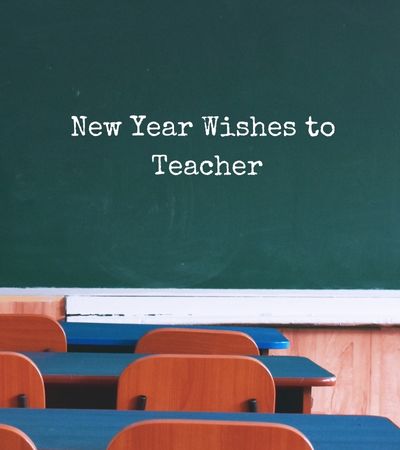 5. Warm new year's wishes to you, teacher! May your plans and aspirations come to pass
6. You set a great example for us, thank you for teaching us in the best manner. Wish you a new year full of prosperity
7. Have a prosperous new year! May your light continue to shine bright.
8. Warm new year's wishes to the teacher who continues to impact our lives in the best ways.
9. With lots of admiration I am wishing you a happy and wonderful new year. 
Read: Happy New Year Wishes for Students
Happy New Year Wishes to Teachers
1. Thank you for your guidance and inspiration. Blessed new year to you, teacher
2. You will always be in my thoughts for helping me achieve the best. May your new year be filled with love, happiness, and success.
3. I am grateful for having the opportunity to interact with you. I pray the new year will be filled with joy and prosperity.
4. May you have more opportunities to impact the lives of young students. Have a wonderful new year.
5. May the kindness you have shown others come back to you in double portions. Have a happy new year.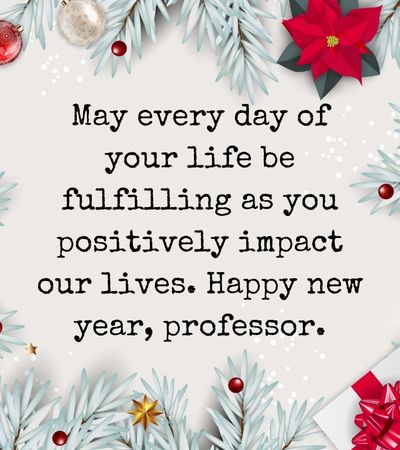 6. Thank you for guiding us in the right direction. May the coming years have lots of blessings for you.
7. Happy new year to you, may the new year bring you better opportunities for you to become a greater teacher.
Read: Holiday Message to Students from Teacher
Happy New Year Wishes to Professor
1. Happy and prosperous new year professor. Thank you for giving us a wonderful learning experience.
2. Have a cheerful new year as you continue to brighten the lives of your students. All the best
3. Happy new year to you! You are a great professor who touches the world in a better manner.
4. May every day of your life be fulfilling as you positively impact our lives. Happy new year, professor.
5. You remain to be one of the most admired professors. Enjoy your new year and may it be joyful.
6. You always have valuable lessons to offer. Have a marvelous new year filled with opportunities to teach and train more students. Happy new year to you
7. With lots of respect and appreciation, I am wishing you a happy and fulfilling new year.
Happy New Year Email to Professor
Dear Prof Calvin,
Happy new year professor, I take this delightful moment to wish you a wonderful new year. I pray you will be blessed with good health, joy, and prosperity. Thank you for the inspiration you continue to add to our lives. This year we look forward to greater learning opportunities. We are honored to have you. All the best
Warm regards
Read: Welcome Back Messages for Student
Conclusion: New Year Wishes to Teacher
The above new year messages will allow you to send warm wishes to your teacher. As you celebrate the new year season with family and friends don't miss the opportunity to celebrate the people who impact your life positively.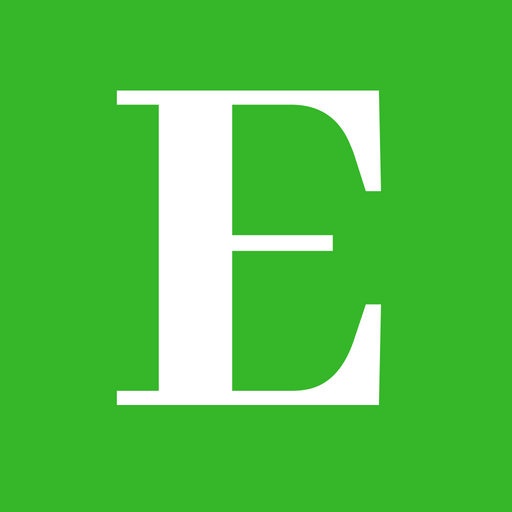 Betty is a qualified teacher with a Bachelor of Education (Arts). In addition, she is a registered Certified Public Accountant. She has been teaching and offering part-time accounting services for the last 10 years. She is passionate about education, accounting, writing, and traveling.