Retirement Messages to a Friend: Are you wondering on what to write on a retirement card for a friend? This article has listed some of the best retirement messages for a friend.
A friend who is retiring will need some support from family and friends to adjust well to the new phase of their life. As a good friend, you cannot miss the opportunity to send warm retirement wishes to a friend.
As you go through our retirement messages for a close friend, hope you will get the right congratulatory message for your friend.
Retirement Message to a Friend
Dear friend,
It has been a wonderful journey to have seen you thrive and work hard through a successful career. As you get into another phase of your life I take this opportunity to send you my congratulatory messages for achieving the best.
You've attained many admirable things and as you retire I have no doubts you will have a fulfilling retirement. You have run your race well and now you deserve a peaceful and joyful retirement surrounded by those you love.
Thank you for touching and inspiring the lives of the people around you. I hope you will still continue to inspire and encourage the younger generation to become what they were meant to be.
I wish you a happy retirement full of blessing, good health and a long fulfilled life. Happy retirement my friend.
Warm regards
Retirement Messages to a Friend
1. Happy retirement my friend, as you begin a new chapter in your life I hope you will enjoy life at a better level.
2. You have worked hard through the years and now it's time to fully seize the opportunity and do what you love most. Enjoy your retirement
3. Happiest retirement! Remember, just because you are retiring from an active career doesn't mean you stop doing the things that add joy to your life. I will be there if you need me.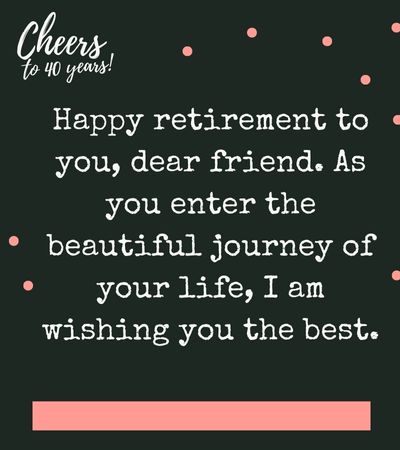 4. Happy retirement to you, dear friend. As you enter the beautiful journey of your life, I am wishing you the best.
5. I know your charisma and kindness will continue to thrive even as you get into the best chapter of your life.
6. You have achieved many great things in your life, and as you usher in your retirement may you continue doing great things.
7. Happy retirement, bestie! I never thought retirement would bring so much happiness and peace. I love the positivity in your life.
8. I am glad to see you welcome the most amazing part of life. All the best my dear friend.
9. Greatness can still be achieved in older age; you still have the opportunity to impact and plant a good seed in the lives of young people around you. Enjoy your retirement
Read: Retirement Farewell Message to Coworkers
Retirement Wishes for a Friend and Coworker
1. Congrats friend for entering the calm stage of your life. May you sail through your retirement with lots of happiness and enthusiasm
2. Happy retirement dearest friend. Time to re-live your childhood dream of living, loving, and playing. All the best
3. Hope you are happy to leave the busy schedule of office time. Embrace your retirement with joy.
4. No more career burdens and responsibilities to weigh you down. I am confident you will enjoy your coolest stage in life. congratulations on your retirement
5. I thank God for allowing you to retire in good health and with lots of achievements. Best wishes on all your plans.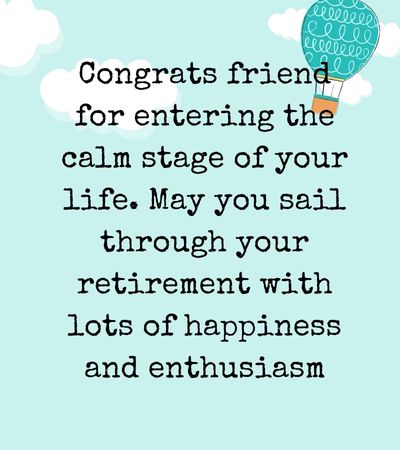 6. You may not know it, but you have created a good legacy in your workplace. May you have a fulfilling retirement journey.
7. Retirement will be good for you as you still have much to accomplish. happy retirement life, my friend
Read: Retirement Wishes for Teachers and Mentor
Retirement Wishes for Friend
1. As you start your retirement believe the future holds great things for you. I wish you good health and numerous opportunity for you to do good.
2. I wish life will get better for you as you start your retirement. Cheers to more love and laughter.
3. Congratulation great friend for getting into retirement in style. I know you will love this new chapter of your life.
4. Finally, it's happening, one of my friends is finally becoming a retiree. You deserve a wonderful retirement after much hard work.
5. Best retirement wishes to you my friend, now you can have a walk in the park without the worry of a busy schedule.
6. I am happy to see you retire after mentoring and inspiring so many people around you. Congratulations on your retirement.
Read: Inspiring Quotes for Retirement
Retirement Quotes for Friend
1. You are officially a retiree, at 60, always choose to be young at heart."
2. Retirement means, calling off all official duties and saying yes to the things that make you a better person."
3. A good soul never retires, it continues to do good until the last day on earth."
4. A comfortable retirement is only an illusion of the mind. Choose to always enjoy life under all circumstances."
5. "You have to put off being young until you can retire."-Author Unknown
6. "As you retire. remember, age is an issue of mind over matter. If you don't mind, it doesn't matter." – Mark Twain
7. "Retirement calls for you to enjoy all the wonderful things you noticed while you went up the career ladder."
8. "As a retiree, you can do what you want to do at any time of the day."
Read: Saturday Messages for Friends
9. "When you retire you have to let go of deadlines and meetings.
10. As your life changes, be ready to unlearn the schedules of a busy mind. You now have enough time to be available to the people who need you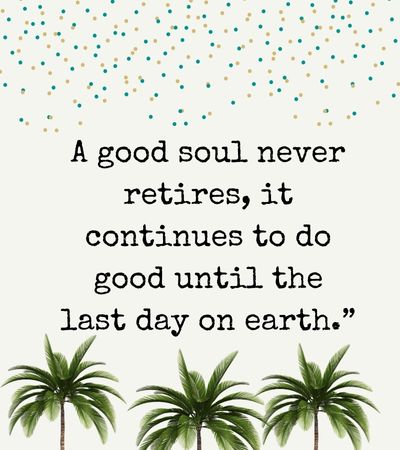 Retirement Card Messages for Friend
1. Wishing you a thriving new beginning as you retire. Hope the desires of your heart will be fulfilled
2. There is so much to live for once you start your retirement.
3. I wish you good health and peace to enjoy every beautiful moment in your life. Happy retirement.
4. I strongly believe you are getting into the best part of your life. Cheers to many happy moments
5. As you get to the end of your active career life, there is a great journey waiting for you. Choose to enjoy more of all you have
6. Our friendship has grown well and I am glad to see you retire with so many things to be proud of. Congrats on retiring in the most outstanding way
7. You have run the race and you have a lot to celebrate. Cheers to your retirement
8. Your hopes and dreams should now have more of your time as you start your retirement. Best wishes to you, my friend
Final Thought
Your friend's retirement calls for celebrations. After going through a demanding work life, retirement should usher in a calmer life. To celebrate your friend, you can send him or her retirement wishes and quotes. The above retirement messages will help you come up with the perfect message to inspire your friend.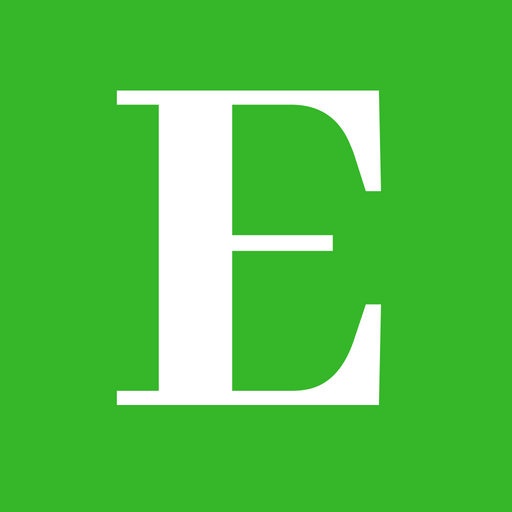 Betty is a qualified teacher with a Bachelor of Education (Arts). In addition, she is a registered Certified Public Accountant. She has been teaching and offering part-time accounting services for the last 10 years. She is passionate about education, accounting, writing, and traveling.