eCitizen Account is one of the most important accounts that most Kenyan have had to register to in order to get some of the vital government services.
Since eCitizen inauguration in 2014, government service delivery to Kenyans has totally improved. A good example, it is now easy to renew your driving license at the comfort of your home.
Some of the services that will require you to have an eCitizen account include passport application, driving license renewal, business registration, application for certificate of good conduct, application for driving test, application of special number plate for your vehicle, birth certificate application etc
To help you create your eCitizen account we have listed below steps
Steps to get eCitizen Account
Important notes to keep in mind when creating your eCitizen account is
 You must be a Kenyan Citizen or a foreign resident
You must be above the 18 years
You must have National Identity Card Number
1. From your internet browser search for : accounts.ecitizen.go.ke/login
2. Below the place where one inputs login details click on create account
3. You will be given several options in which you can create your account, so for Kenyan citizens select Kenya citizen account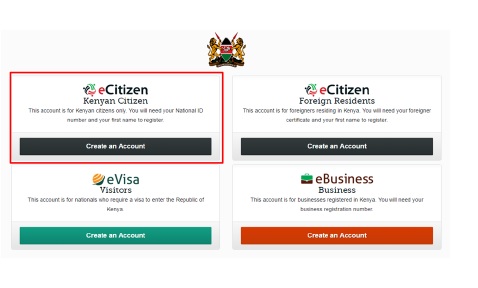 4. Enter your ID number and the first name as it appears in your ID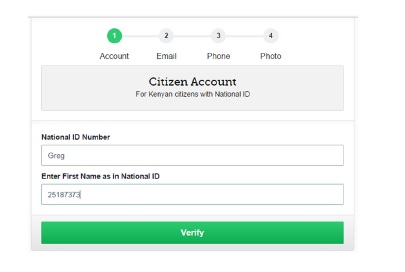 5. Enter the email that you intend to use as your login credentials then create a password. To ensure that the email you have provided is valid you will need to verify it so click on resend verification email and the a verification link will be send to your email
6. Login to your email and click the email sent in your inbox and you email will be verified.
7. The next step is verifying your mobile number; this is the number where once in a while a verification code will be sent to when you chose text message as the mode which verification or new password will be sent.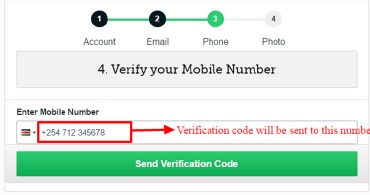 8. After entering the phone number click on send verification code. Enter the code sent in your phone and you phone number will be verified
9. The last step is to upload photo, the photo to be uploaded should be saved in JPEG
Creating eCitizen account is not chargeable any fee, the account remain valid as long you will be able to remember you login details. However if you happen to at one time forget your password you can still be able to recover your account as explained below
How to recover your eCitizen account
If you have forgot the password to your eCitizen account you can still recover your account.
On the page where you login to your account click on the link 'forgot your password?'
Enter either ID number or email address whichever credential you had chosen when creating your account
Choose where you would like the reset code to be sent, either email or through a text message.
After the code has been sent enter in the place provided.
The next will be to create another new personalized password which you will use in the subsequent logging into your ecitizen account.
Some of the online services you can find in eCitizen
    Through eCitizen online services you can apply for a temporary driving licence, renew driving license, book for driving test, get a new driving license, pay for all the fees related to stated services and follow your application
Register and manage your business these includes business name registration, public & private company registration etc.
New application of passports wil be online, application of visa and application of work permits.
Directorate of Criminal Investigations services like application of Police Clearance Certificate can be accessed through eCitizen
Services also includesd in eCitizen include those that that are done in Attorney General office like getting married or enter a civil partnership in Kenya, business Name search and Registration.
Other services include Application of Birth & Death certificates.
Other counties such as Mombasa county, Nyeri county, Kisumu county have integrated some of their services in eCitizen
How to register your business on eCitizen
In order to register your business your business on eCitizen you will need to login into your account and then click business registration.
A business name is different from a company in terms of legal perspective. A business name is just a name that you give your business but you as the owner will not be a separate entity. This means that the business will use your PIN, tax compliance and other documents. However after registering your business you will obtain a business certificate that you can use to open a bank account for your business.
Name search
After selecting business registration you need to do a name search to find out if the name you want is available or it's taken. You will pay a total of Kshs 150 for the name search; this will include Kshs 100 for the search and Kshs 50 for the convenience fee. It may take 2-3 working days for your name to be approved or not.
Approval of your business name means that you can go ahead and register. To register you will need to state the location of the business and the address. n addition you will also need to state the major activity of your business. You will then down load the incomplete business certificate and sign. After signing, scan it and upload. Registration will be Kshs 850 including the convenience fee. There are several ways to pay for your fee but the most convenient is the through mobile payment. After payment you will need to finish the process where by your payment will be approved,
After completing the registration and payment you will need to wait for some few days to get your certificate of registration or business certificate which you.
eCitizen Kenya Login
Find eCitizen Kenya Login here. Official Digital payments platform that enables Kenyan citizens , residents and visitors access and pay for government services online.
One Login for all Government Services
eCitizen
Kenyan Citizens and Foreign Residents can now apply for Government to Citizen (G2C) services and pay via mobile money, debit Cards and eCitizen agents.
Find eCitizen Login here https://accounts.ecitizen.go.ke/login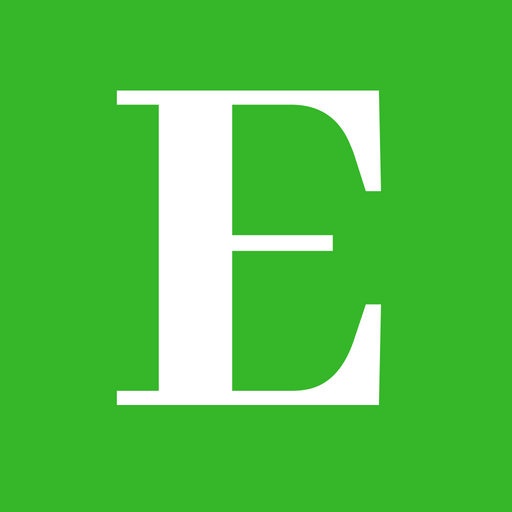 Betty is a qualified teacher with a Bachelor of Education (Arts). In addition, she is a registered Certified Public Accountant. She has been teaching and offering part-time accounting services for the last 10 years. She is passionate about education, accounting, writing, and traveling.