Welcome Quotes for New Employee: Looking for the best way to create a good first impression for a new employee? As you come up with the best welcoming messages for new hires, you have to develop a unique message that is inviting and memorable.
Below we have compiled some of the messages you can use to welcome an employee to your organization or company
Welcome Quotes for New Employee
Welcome to the company where you will see the joy of achievements.
Your thrill of creating better things is going to be fulfilled in this place. Welcome onboard!
Welcome to a team that will give you ample environment to allow you to achieve your success.
Great to have you on our team! A team that understands doing today's possibilities creates a better channel to achieve tomorrow impossibilities.
Welcome to the team that believes in everyone's potential.
Glad to invite you to the team that knows the potential that comes with hard work and positivity.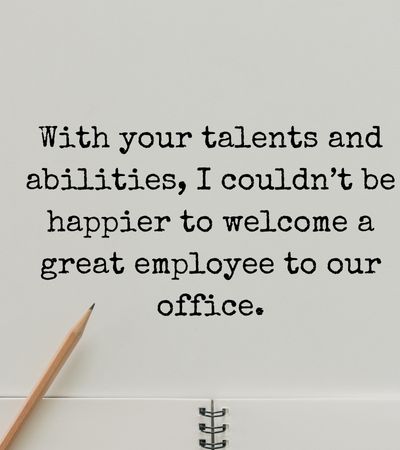 Welcome on board! You are not hired to just be an employee, you are hired because you can also build your own dreams.
Welcome to a company where we light our tomorrow with today's achievements.
As I welcome you to this department, understand that each of our days is considered a masterpiece.
Together with our support, your great experience will count and make a difference. A warm welcome to you.
Time to spend your energy moving forward and building the best skills for your future. Welcome to our team.
Welcome to better opportunities! Your faith that you can do it is more important than your activity.
We are delighted to welcome you to our company. A place where we don't believe in anything less than your full potential.
It an honor to see you join us. The road ahead looks promising if you have the right attitude.
Glad you said yes to our job offer, you are now in control of your own greatness. See you at the top and feel welcomed.
Read: Welcoming New Employee Email
Short Welcome Message for New Employee
We are pleased to have you amongst us.
On behalf of our management, I warmly welcome you to the organization.
We extend our warmest welcome to you. Best wishes to you.
Welcome to the team! We are glad to have you at our department.
We welcome you to your new role. I know you're going to be a valued asset to us.
It is with great joy we welcome you. We look forward to seeing achieve the best.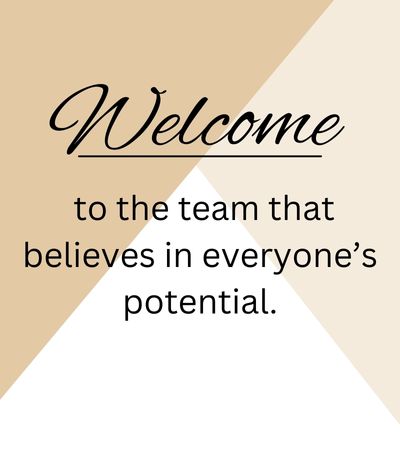 The whole team of [name of the company] is excited to welcome you.
Congratulations on emerging as the top candidate for the position. You are much welcome
Our growing team is delighted to welcome you on board.
It's an honor to welcome you to our team.
We are glad to welcome you to your new role.
As we welcome you, we believe your input will be of great assistance in helping us achieve our goals.
Welcome to a team that is ready to support you.
Well done on being part of the great team!
Feel welcome and be ready to become work with an amazing team.
Welcome to the organization that is ready to set you on a successful journey.
A big congratulation on your new position.
Your extraordinary skills will be a better addition to our team. Welcome.
Glad you are filling a position with a mutually beneficial relationship. Welcome.
Cheers, and welcome to being part of our vibrant team! 
Read: Holiday Greeting Messages for Business
Funny Welcome Quotes for New Employees
Welcome to the team with a good contagious attitude!
Welcome on board, it will be a fun ride with lots of achievements.
You are welcome to a place where we believe in giving more to the employee to get more for the company.
We welcome you to a great team, but we won't promise not to spoil your day once in a while.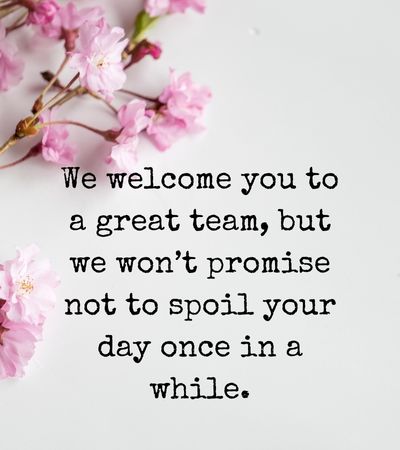 If personal recognition is not your greatest motivator you will have a longer ride. Welcome on board!
Welcome to a place of building your full potential with no compromise.
Glad to welcome to the land of possibilities, where an employee today can be an employer tomorrow.
Welcome Messages for New Employees
Welcome aboard! You are in the right place to fulfill the best achievements in your career.
A great welcome to you, together as a team we will sail through the calm and the strong winds to achieve our company's goals.
It is with great honor that I welcome you today, I am sure our team has gotten a talented member.
With your talents and abilities, I couldn't be happier to welcome a great employee to our office.
From your previous achievements, our team is glad to welcome you to a better and more challenging career.
Welcome on board, it will be a delightful journey to sail the company into greater heights.
With warm and open arms our team welcomes you to join and form one of the strongest working bonds needed to attain the best results.
Welcome to the team that is entrusted with the right skills to make the organization bigger and better.
Congratulation on emerging as the best candidate for the job. Feel welcomed.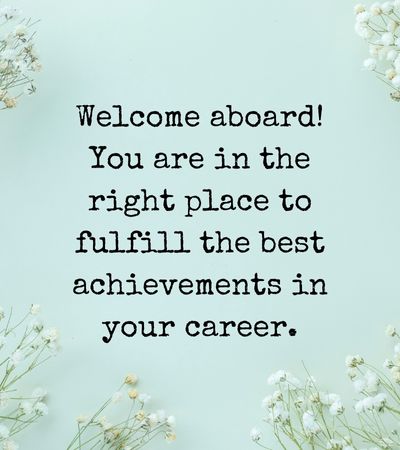 Without a doubt, you are warmly welcome to an organization that is ready to give you all you need to do your best.
Our heartiest welcome to an amazing employee. Hope you will enjoy your working experience with us.
You are now a great asset to us. You are much welcome.
Our dynamic team is excited to welcome you to work with them.
Cheers on joining the organization at its best moment. Welcome knowing the future looks bright.
We are thrilled and honored to have you join us. Welcome!
Congratulations on joining our team as the youngest and the most talented member.  Warm welcome.
Welcome Aboard! You look energized to become the newest member of this team! Hope the position will be rewarding.
Conclusion: Welcome Quotes for New Employee
There are many ways to welcome new employees into a company but one of the common is sending them a warm welcoming message. The above welcoming quotes for employees are unique and have been developed with a great observation of the new employee's needs. As a team leader, head of a department, human resource officer, or manager you can use or edit one of the above messages to welcome an incoming employee.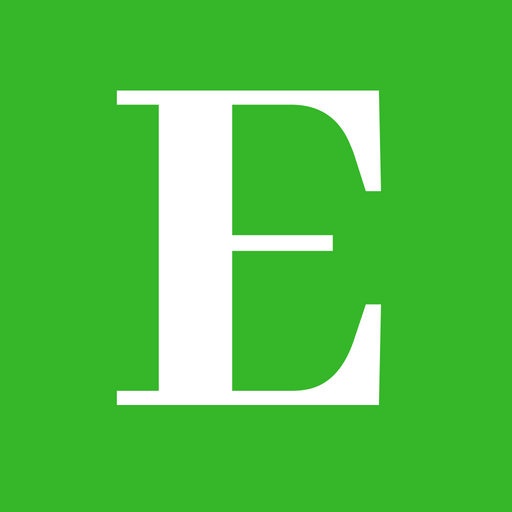 Betty is a qualified teacher with a Bachelor of Education (Arts). In addition, she is a registered Certified Public Accountant. She has been teaching and offering part-time accounting services for the last 10 years. She is passionate about education, accounting, writing, and traveling.