Employee Appreciation Card Messages: As employee appreciation day approaches, take some time and show your appreciation to your staff. There are many ways to show your employees your appreciation including getting them personalized products, gift vouchers, or outdoor activities. However, one of the simplest ways is sending them Employee Appreciation Day Thank You Message. The below messages will help you have an on what to write in an employee appreciation card.
Employee Appreciation Card Messages
1. The management appreciates and congratulates you for the outstanding work you continue to carry out every day. We are the best because we have the best employees
2. This a big day to appreciate our employees, we are forever grateful for the good work you do.
3. No rewards can be enough to thank you for the excellent skills and services you give. Thank you and have a happy employee appreciation day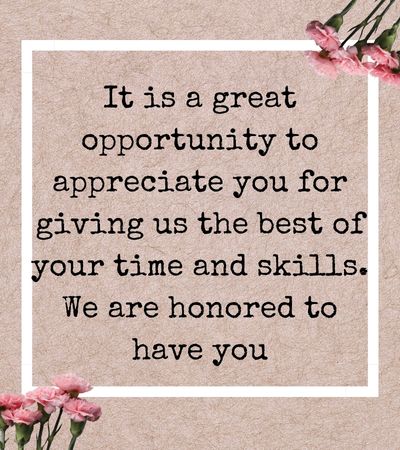 4. Thank you for making a difference in our workplace. We are excited to continue working with you.
5. It is always a delight to remind you how much you mean to this organization. Thank you for choosing to work with us
6. It is a great opportunity to appreciate you for giving us the best of your time and skills. We are honored to have you
7. To all our employees, feel valued and appreciated, no pay or bonus is enough to show you how much we appreciate you. Thank you for all you give and commit to this company
8. It is a privilege to have you as our employees. Thank you all for helping us transform this company
Read: Employee Appreciation Day Message from the CEO
Employee Appreciation Day Card Messages
1. On this employees' appreciation day, we would like you to know we are delighted to have you in our team.
2. Your positivity and productivity are always admirable. Thank you for your support.
3. This employee appreciation day card is to thank you for your loyalty and standing with us throughout the years. Cheers to more great moments
4. Your excellent work is never to be taken for granted. We recognize and thank you. Happiest employee appreciation day
5. Not only are you a valuable asset to this company, but you are also loved and cherished. Enjoy this day knowing you are an outstanding team
6. Thank you for your exemplary work, with lots of appreciation we celebrate you on this employee appreciation day.
7. This organization is proud to have you; you continue to inspire to become better. Cheers to a well-deserved employee appreciation day
8. Having talented and dedicated employees like you continue to make us better. Thank for making us the best.
9. Numerous times we have attained our goals and objectives when we collaborate to achieve the best. Feel appreciated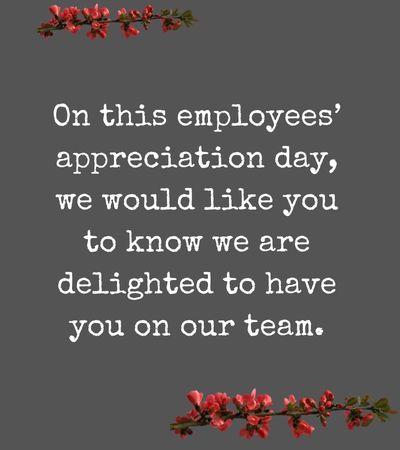 Read: Recognition Words for Employees
Employee Appreciation Day Thank You Message
1. Our journey continues to become better when we work together. Thank you for being in our company.
2. Thank you for courageously facing all the challenges and for emerging with the best results. Have a joyful employee appreciation day
3. We are proud that we believed in your skill, talents, and creativity. Thank you for helping us achieve the best. Happy employee appreciation day
3. Cheers to a happy employee appreciation day, as we celebrate this year's employee appreciation day, we must admit that you are wonderful employees. We are grateful to have you
4. A wonderful happy employee appreciation day to all our employees, over the years you have continued to earn our admiration and respect for the excellent work you do, thank you.
5. As we celebrate another employee appreciation day, we thank you for having a positive mindset toward your work. Cheers to better opportunities
6. We are grateful for valuing our company, your enthusiasm is appreciated. Wishing you the best on this employee appreciation day
Read: Martin Luther King Day Message to Employees
Conclusion: Employee Appreciation Card Messages
Employee appreciation day is important, it helps create a better employer-employee relationship. For a successful business to continue growing, employers cannot work alone. A working collaboration is needed between the management and employees. As every first Friday in March is set aside to celebrate employees, employers be it business owner, managers, or CEO should express their appreciation to their staff. The above messages will be of help when looking for the best messages for your employee on employee appreciation day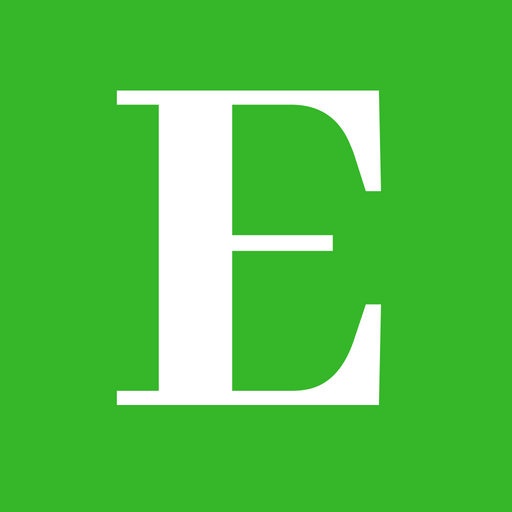 Betty is a qualified teacher with a Bachelor of Education (Arts). In addition, she is a registered Certified Public Accountant. She has been teaching and offering part-time accounting services for the last 10 years. She is passionate about education, accounting, writing, and traveling.