Christmas Messages for Students: Are you a teacher, lecturer, or trainer looking for superb messages to send to your students? Our Christmas holiday wishes for students are creatively developed to help you send the best holiday greetings. You can be assured each message is intended to leave a memorable mark on your students.
Christmas Messages for Students
Merry Christmas to you, I take this opportunity to wish you a happy holiday filled with lots of fun and love with your families.
Have a wonderful Christmas. I wish you a memorable festive season accompanied by laughter and joy.
To my best students, I wish you a great Christmas celebration. May you enjoy your holiday.
It is my joy to send you happy Christmas holiday wishes. Let this Christmas be a good one. May God's love be upon you.
Being with you has been a wonderful journey. I hope you will enjoy your holiday season. Have a wonderful Christmas holiday my student.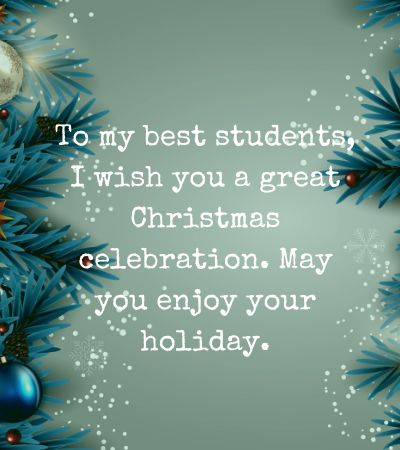 The best days await you. Be careful and enjoy every moment of this year's festive holiday. Merry Christmas my wonderful students.
To my Lovely student, sending you great Christmas holiday greetings. May the Lord Jesus bless you and your family with happiness this coming holiday. All the best.
As we take time off the school routine, embrace each moment with your family. Happy holiday.
It is a joy to wish you a merry Christmas and a happy new year. Let your holidays be the best and may you have lots of fun during this festival.
A big smile for the happy and merry Christmas Holiday season awaiting you. I pray you will have a fun-filled Christmas full of good times with loved ones.
To my superb class, I wish you a pleasant holiday season! May the cheerfulness and delight of the Christmas season be with you.
This Christmas season sing your favorite carols and decorate the Christmas tree to your best. Best Christmas wishes from your teacher!
Read: Happy New Year Wishes for Students
Christmas Wishes for Students
I take this moment and share my Christmas wishes with you. Have a holiday that you will remember in the coming days. Merry Christmas my students.
I appreciate each and every girl and boy in my class. I am hopeful that you will have great Christmas celebrations with your family and friends. Happy holidays.
Happy Christmas to you my students, I hope that this Christmas Santa will pass by and give you a lovely present. God bless you all.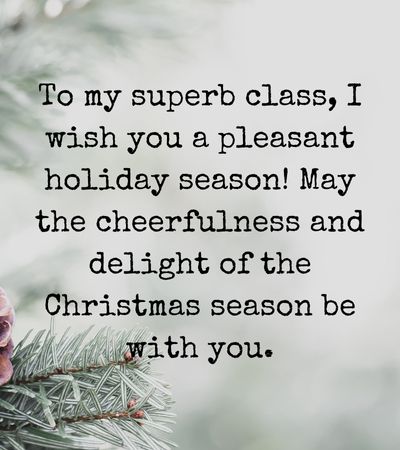 Nothing compares to the numerous smile you have brought into my life. I pray and wish you a wonderful Christmas.
I hope this season presents you with more joy for you and your family! Happy holidays dear students!
I wish you a happy Christmas season surrounded with lots of presents and love. Lovely Christmas to you.
I am thankful for this Christmas season. May the blessings of God be upon each and every one of you. Season's Greetings my dear students.
Cheers to another special time to spend with friends and family members. I extend my warm Christmas wishes to you.
You have been a great team for me, I cannot fail to wish you a Merry Christmas and a happy new year filled with great achievements.
As we usher in the holiday season may your Christmas be merry and the new year be more fruitful than the ending year. Merry Christmas my students!
Read: Welcome Back Messages for Students
Merry Christmas to My Students
Santa is coming to your town this Christmas. I trust you will have all the joy and cheer to make your Christmas memorable!
Another wonderful time to sing the "Joy to the world." Sing and smile to your best this Christmas. Merry Christmas to my students.
Hurray, Christmas is here! Happy Holidays from me to you! May all the days be filled with all the wonderful people and moments.
The world is rejoicing. The Christmas carols can be heard near and far. I pray you will have a superb merry Christmas and a happy new year.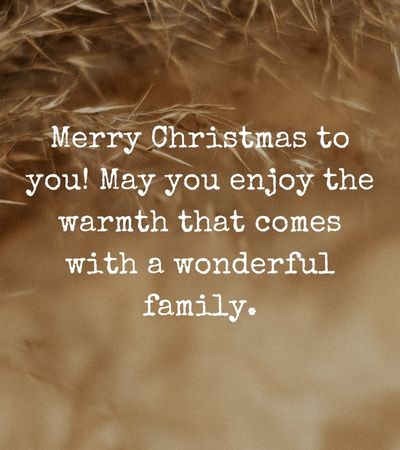 Wishing you the gladdest of holidays this season! May you find peace, laughter, and love. Happy Christmas to you.
Christmas is here! Put on your best dancing shoes. May you find many Christmas gifts under the beautiful Christmas tree. Happy holiday my students!
Read: Thank You Note for Teacher from Parents
Inspirational Christmas Message for Students
Merry Christmas to you! May you enjoy the warmth that comes with a wonderful family.
The sparkle that comes with Christmas is waiting for you. Happy Christmas my students
May you find the miracles that come with a Christmas season.
I pray for you to have the most inspirational Christmas season of your life.
The love of your family and friends is more important than anything else in your life. This Christmas take time and be happy around them
May the light of God and the love of your family be with you this Christmas
May you experience the real beauty of Christmas. Happy Christmas to you
Read: Holiday Message to Students from Teacher
Conclusion: Christmas Messages for Students
This Christmas season, don't forget to send your season greetings to you students and more so to the parents. A simple Christmas message can leave a mark on someone life. So take your time and go through below messages to come up with the most inspirational Christmas message for your students.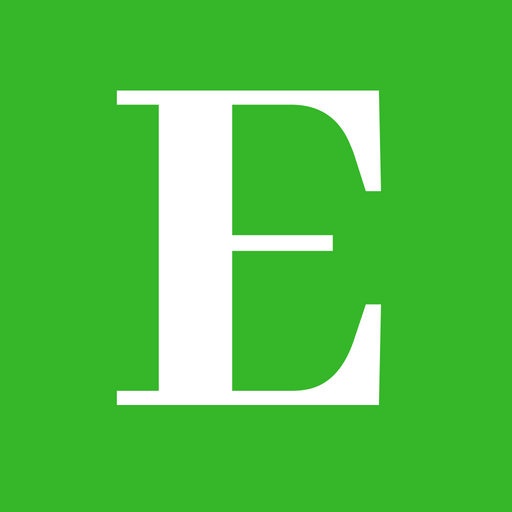 Betty is a qualified teacher with a Bachelor of Education (Arts). In addition, she is a registered Certified Public Accountant. She has been teaching and offering part-time accounting services for the last 10 years. She is passionate about education, accounting, writing, and traveling.