Encouragement Words for A Test: Looking for words of encouragement for students during testing? This article has compiled messages you can use to encourage someone having exams.
Although exams are common in a student's life, they often bring anxiety that can be reduced by a few words of encouragement. Additionally, waiting for exam results also adds anxiety and that is why words of encouragement are important for someone waiting for test results. Encouragement words combined with exam wishes can reduce exam phobia and add confidence in a student.
If you know someone sitting for exams, you can choose one of the below encouraging words for students taking a test.
Encouragement Words for A Test
1. Your hard work is enough evidence that you will pass your exams. Good luck.
2. You have adequately prepared for your exams and you have nothing to fear.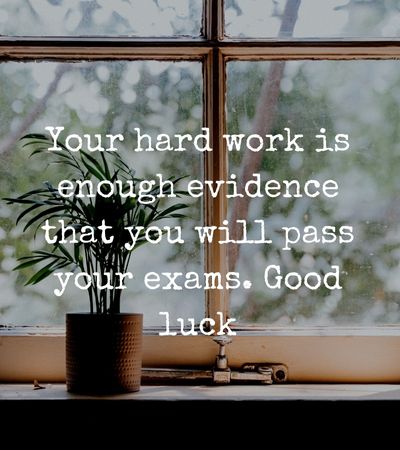 3. Good luck as you sit for your exams, I know you have worked hard for the best.
4. Be confident, you have run the race well and nothing will hinder you from winning.
5. Believe in yourself, you have previously passed many exams and this one should not be different.
6. You will come out of the exam room as a triumphant student, be confident. Good luck with your exams.
7. Wishing you success as you sit for this exam. You will pass with flying colors.
8. Your effort and commitment to your education are admirable. Don't fear the exams because you have prepared well.
Read: Congratulations Quotes for Good Grades
9. My prayers are with you as you do your exams; I am assured you will pass.
10. Believe you can do it, all the best in your exams.
11. You have a positive mindset that will help you successfully pass your exams.
12. As exam tensions increases remember you have already completed the hardest part of the journey. You only need to hold on till the end.
13. As you wait for the exams, don't lose focus on the final goal you want. Good luck with your exams.
14. Be encouraged, you will never be tested on what is not in the syllabus. You already know what is in the exams.
Read: Valentine Messages for Students
Encouraging Words Before a Test
1. The long road is finally coming to an end; your previous results are a sign you will also pass these exams. Wishing you success.
2. Don't let your faith and confidence be moved, you are the same student who has passed previous exams. Nothing will be different this time. All the best.
3. Focus on doing the best in your exams, but always remember the outcome is not what will determine your future. Good luck with your exams.
4. Life comes with different seasons. As you get into the testing season, I am wishing you nothing but the best.
5. My support and prayers are with you during this time of exams. Good luck with your exams.
Read: Independence Day message to Students
6. Trust in God and then in yourself, the exam is only a trial that you are meant to pass. Success to you.
7. You have and know more than you'll ever imagine. Go into the exam room knowing you pass well.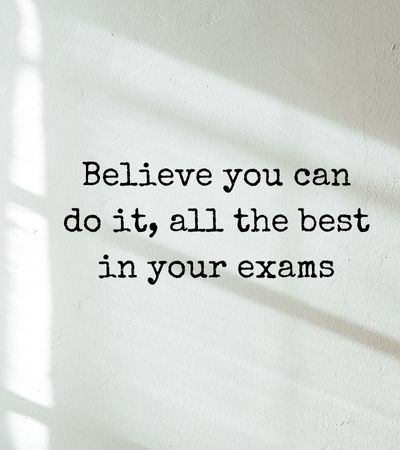 8. Don't let fear interfere with what you can be able to do. Wishing the very best in your exams.
9. Blessing to you as you wait for exams. Keep in mind that just because you cannot answer one question doesn't mean you cannot answer the rest. Good luck to you.
Read: Summer Vacation Wishes for Students
10. Belief in yourself and your abilities. All things are possible to those who believe. Best exams wish to you.
11. You have what it takes to pass your exams. Good luck with your exams.
12. Success comes to those who work for it. I know you will pass because you have worked hard.
Exams Wishes
1. Wishing you success on your coming exams, you deserve the best since your hard work and devotion have been great.
2. Relax and be confident during the exams. I know you will succeed. All the best.
3. Never let fear and anxiety have any room in your life. Wishing you the best in your exams.
4. Best of luck with your exams. Believe in your potential.
5. Your combination of working smart and hard work will pave way for your success in exams. All the best.
6. Don't forget what you achieve if you put your mind to it.
7. Go out and do the best you can, you have enough people cheering you on. Good luck to you.
8. The reason why you will pass your exams is because you have shown the determination to do so. All the best.
9. Your exams are meant to bring out the best in you. Good luck with your exams.
10. Nothing can deter you from passing your exams. What you have learned is what will be tested. May you pass with flying colors.
Read: High School Graduation Wishes
Final Thought
At a certain point in our life, we will need some encouragement. If you know someone sitting for their exams, you can send them one of the above encouraging words.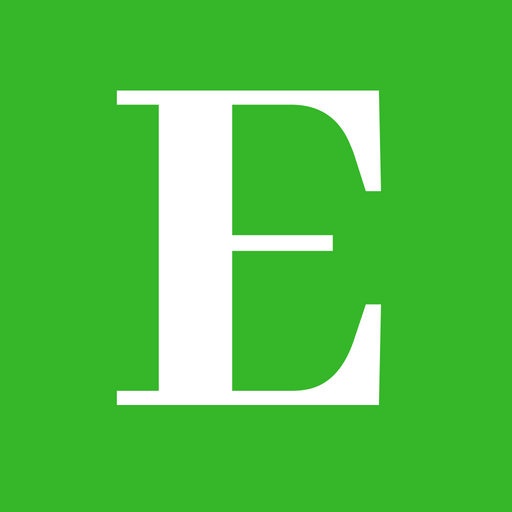 Betty is a qualified teacher with a Bachelor of Education (Arts). In addition, she is a registered Certified Public Accountant. She has been teaching and offering part-time accounting services for the last 10 years. She is passionate about education, accounting, writing, and traveling.