Congratulations Quotes for Good Grades: How do you congratulate someone on good grades? It is common for students to seat for exams or tests. Some of the standardized tests that students seat for includes admissions test, language proficiency, IQ test, public school test, and other tests.
When someone is aiming for good grades there are several getting good grades quotes that you can forward to them to add some inspiration.
If you know a student in elementary school, high school, university, or any other institution who has passed their exams, it is good to send them a Congratulations Message for passing exams. Below we have looked at the best congratulations on good grades quotes
Congratulations Quotes for Good Grades
1. Success comes to those who work for it. Congratulations on passing your exams
2. Congratulation! With perseverance and hard work, you have finally emerged at the top.
3. You have planted good seeds for your future, congratulation and may you harvest the best results.
4. Life is about being consistent in learning. Congratulations on your good grade. Keep on learning.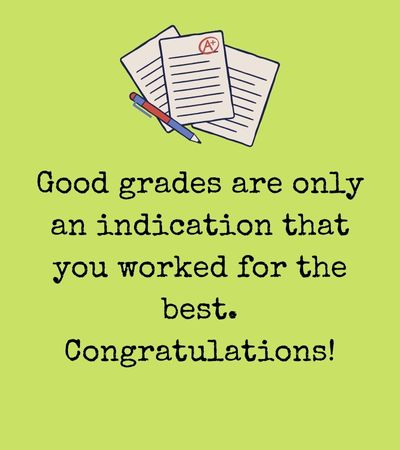 5. It is not the bright students who make it in life but anyone who stays focused and consistent. Cheers to achieving the best.
Read: Congratulations Messages for Achievement
6. Congratulations on aiming for the best. You got it!
7. Good grades are only an indication that you worked for the best. Congrats
8. Your plan for good grades wasn't only a wish, you worked for it. Congratulations
9. It is clear you are a good student, you set your goals and finally, you have achieved the best. Congratulations
Congratulations to The Students from Teacher
1. Congratulations on your success, may the door of better opportunities open for you. See you at the top
2. As your teacher, I am thrilled to celebrate your achievement. Congratulations on emerging as a winner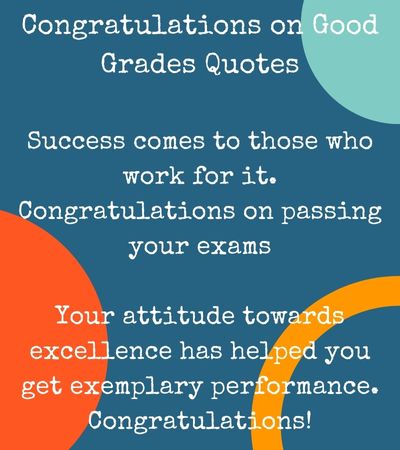 Read: Thank You Card Messages for Graduation
3. Congratulations on accomplishing so much. I am happy that you have utilized your potential in the best ways.
4. Your outstanding performance is impressive. Congratulations on the good grades.
5. Your spectacular performance can be linked to your hard work and determination. I trust you have a promising future. Congrats
6. Congrats dear student! I am proud to be your teacher. Best wishes to you.
7. Big dreams come to those who plan for big things. Congratulations on your achievement.
8. Your attitude towards excellence has helped you get exemplary performance. Congratulations
Read: Graduation Messages from Teachers to Students
Congratulations on your Success in your Exams
1. Congratulations on passing your exams. Keep believing in yourself for the journey ahead looks promising
2. A journey that begins with lots of focus, hard work, and determination succeeds. Congratulation on choosing to travel that journey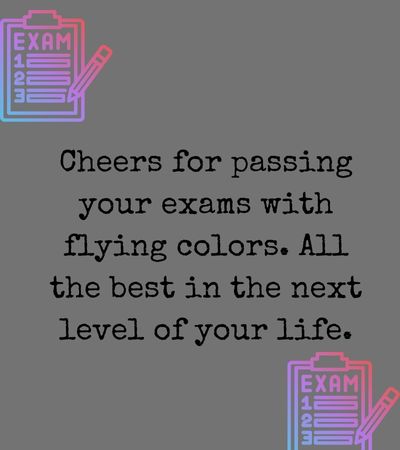 3. Cheers for passing your exams with flying colors. All the best in the next level of your life.
4. Your brilliant exam results are well deserved. Congratulation on working towards your goals
5. Congrats on the remarkable success in exams. You have overcome the tension and challenge to score the best. I am proud of you.
6. You have made so many people proud. Congrats and keep on the positive spirit,
7. Well done for the impressive results.
8. Your good performance is worth some appreciation. Congratulations
Read: Inspiring Graduation Messages
Conclusion: Congratulations Quotes for Good Grades
The above congratulatory messages for good grades will allow you to come up with the best message to congratulate anyone who has passed their exams. The messages are meaningful and simple to be used at all levels of education.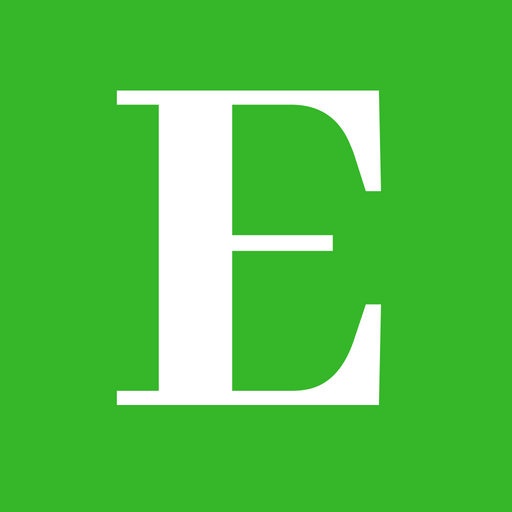 Betty is a qualified teacher with a Bachelor of Education (Arts). In addition, she is a registered Certified Public Accountant. She has been teaching and offering part-time accounting services for the last 10 years. She is passionate about education, accounting, writing, and traveling.