Thankful Labor Day Quotes: On this year's Labour day, don't miss the chance to celebrate the day with a happy labor day caption developed using one of the below happy labor day inspirational quotes.
Thankful Labor Day Quotes
1.  "Happy and thankful labour day, work hard, and stay humble."
2. "Nothing can thrive without effort. – Sophocles
3. " No work is insignificant. All labor that uplifts humanity has dignity and importance and should be undertaken with painstaking excellence." – Martin Luther King Jr.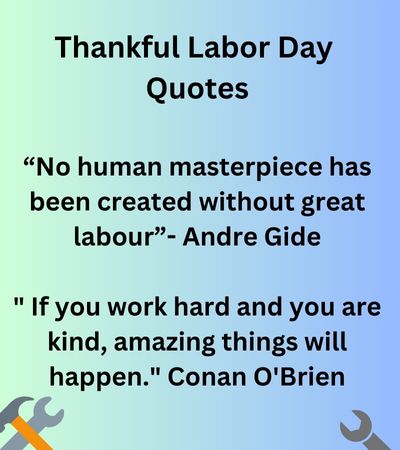 4. " And people should eat and drink and enjoy the fruits of their labour for these are gifts." Ecclesiastes 3:13
5. "If you choose a career that you are passionate about, it won't feel like work." – Confucius
6. " Be thankful when you get the rewards for your hard work."
7. "No human masterpiece has been created without great labour"- Andre Gide
8. "Be happy, you never know how much time you have left." Unknown
9. " Always be grateful each day and you will be able to see beautiful things often blurred by negativity. Happy Labour day"
10. " If you work hard and you are kind, amazing things will happen." Conan O'Brien
Read: Labor Day Messages to Employees
Happy Labour Day Quotes
1. " As a worker, you will never go far unless you know where the goalposts are."
2. " Pleasure in the job puts perfection in the work"- Aristotle
3. " Happy Labour day, rest when you're tired, relax when you are stressed. Choose to be a happy worker.
4. " If your work hard, your labor is not in vain.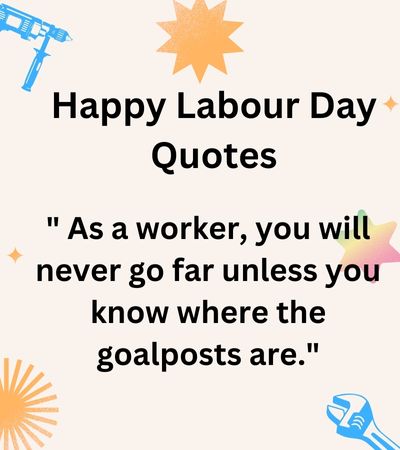 5.  "The process of growth and achievement requires not only positive thinking but also hard work."
6. "Work is not a penalty but rather a source of reward, strength, and enjoyment. "- George Sand
7. "Success is not achievable without putting effort in the work."
8. "Labor Day is a chance to recognize and appreciate the hard work that contributes to our nation's greatness." – Unknown
9. "Labor Day is a tribute to the contributions workers have made to the strength, prosperity, and well-being of our country." – Unknown
20 "Work is not meant to be easy, so take time and celebrate the results of your work. It is the only way you will keep on going."
Read: Easter Messages to Employees
Conclusion: Thankful Labor Day Quotes
The importance of Labor day cannot be overlooked and there are many ways to celebrate workers. You can share the joy of these day by sharing one of the above quotes to inspire a colleague, friend or a loved one.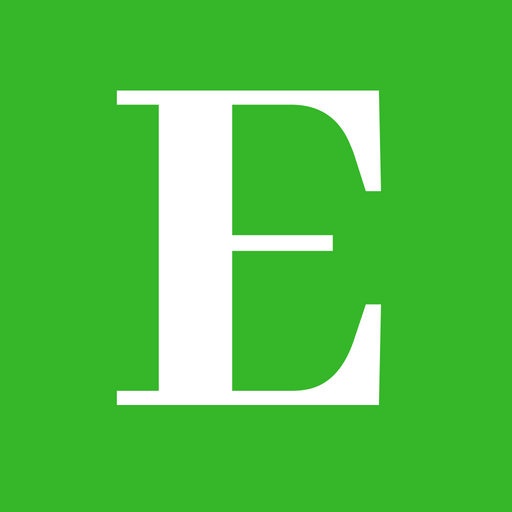 Betty is a qualified teacher with a Bachelor of Education (Arts). In addition, she is a registered Certified Public Accountant. She has been teaching and offering part-time accounting services for the last 10 years. She is passionate about education, accounting, writing, and traveling.