Thank You Quotes for Caregivers: In times of sickness we need someone to care for us. Often a caregiver helps a patient recover. If you are looking for words to thank a caregiver, we have come up with some of the best thank you quotes for a caregiver.
Thank You Quotes for Caregivers
1. Your golden heart is God-given, thank you for giving me the best care any sick person would ask for.
2. Thanks for adding magic in my life. You are the kind of caregiver that make the world better.
3. Thank you for making my dark moments in life become brighter.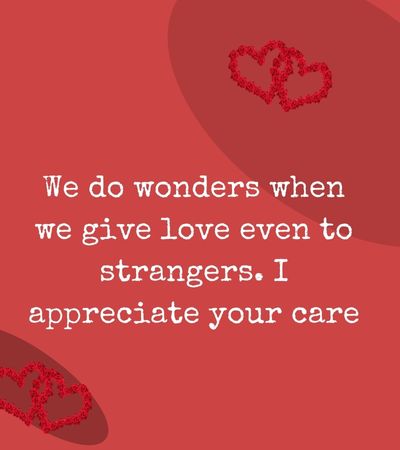 4. We do wonders when we give love even to strangers. I appreciate your care
5. The hands that take care of the sick touch the heart of God. Thank you for all your support
6. Your caregiving ability knows how to love and embrace others so graceful
7. I am forever grateful to you; your kind heart makes you the best caregiver anyone could ever meet.
8. Your kindness and care changed my world in some better ways. Thank you for being an outstanding caregiver
Read: Words of Strength for A Caregiver
Caregiver Appreciation Quotes
1. As a caregiver, what you do is priceless. May you forever be blessed.
2. Always feel appreciated for extending your love to the people who need your care.
3. You not only add sunshine to other people, you teach them how to be courageous and fight on. Thank you
4. Words of gratitude cannot be enough to thank you for all the things you have done for me.
5. God bless you for making me feel so special and cared for.
6. Thank you for adding positive insights into my life, I am better because of you. Thank you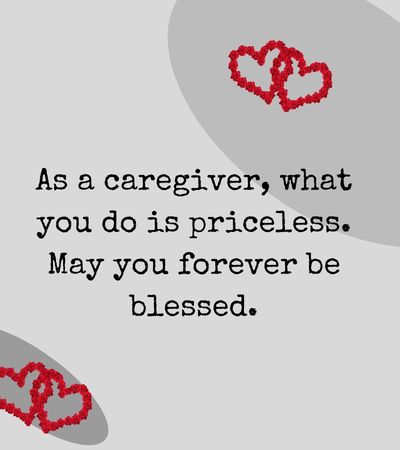 Read: Short Message for Doctors
Caregiver Appreciation Message
1. Thanks for hanging on my side even when days were gloomy.
2. I am so happy to have met you, you are the kind of caregiver that makes the world revolve better
3. Countless times you have proved that you are the caregiver everyone would want to have. Thank you
4. At times when our flames go off, it takes some care to light it again. Thank you for lighting my flame
5. Thank you for constantly becoming like an angel in my world. Be blessed
6. As I count the blessings in my life, I am assured you are a gift that added sunshine to my life. Thank you a lot
7. The roots of your kindness go deep into your heart, and that what make you be a wonderful caregiver. Thank you
Read: Thank You Messages for Hospital Staff
8. You are more than a friend, you found the time to be with me in my lowest moment.
9. With you, in my life, I don't have to look far to see the blessings in my life. Always grateful to you
10. As a caregiver, your kindness is a language everyone can understand
11. Expressing my gratitude to you is a thing I will never get tired of. Always grateful
12. Thank you for giving the best without any complaints. May God always be with you
Thank You Note for Caregiver
1. Thank you for taking care of me. Your compassion makes you one of the kindest human beings
2. The power of touch and love always brings a smile to me even when I am not feeling well. Thank you
3. A thank you note to you; you took care of me with much love.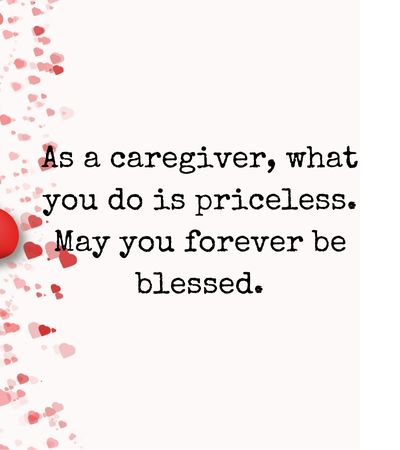 4. In all you do, may God bless you for choosing to be an excellent caregiver.
5. You are a hero in the most amazing way, thank you for caring for the weak and needy.
Read: Get Well Messages for Coworker
6. Feel appreciated for the changes you bring to other people's life.
7. As you take care of others, never forget that in lifting others we also rise up and become better. Thank you
8. When a person cares about another in times of need, it represents life's greatest value, forever grateful to you.
9. You gave me a shoulder to lean on when I needed some assistance. Thank you from the bottom of my heart.
10. You have taken care of me with so much kindness and joy that I will thoughtfully remember as long as I live
11. Thank you so much for your dedication to helping me become better.
Read: Thank You Messages for Preschool Teachers
Final Thoughts
Kind and caring caregivers are rare to find, if your caregiver is a relative, friend, or professional caregiver you can send them one of the above thank you note to just express your gratitude.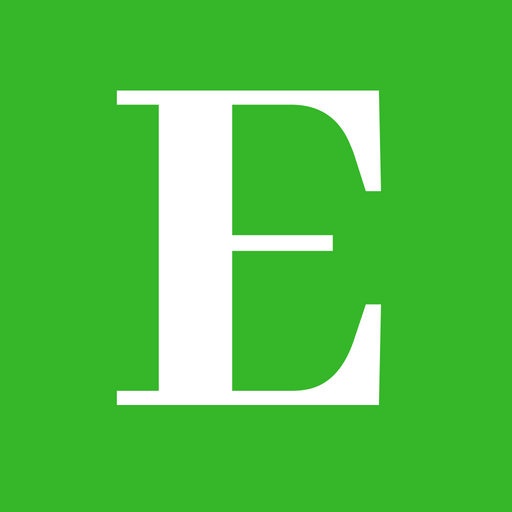 Betty is a qualified teacher with a Bachelor of Education (Arts). In addition, she is a registered Certified Public Accountant. She has been teaching and offering part-time accounting services for the last 10 years. She is passionate about education, accounting, writing, and traveling.