Thank You Note from Teacher to Student for Gift: Often teachers receive appreciation gifts, gestures, or cards from their students.  As a teacher when you receive a gift from students it adds some happiness and you feel appreciated. It helps you keep in mind that the time you take and teach your students doesn't go unnoticed. A good way to appreciate your student is by sending a thank you note. In this article, we have provided examples of how to write a thank you note from a teacher to a student for a gift.
Thank You Note from Teacher to Student for Gift
1. Your gift was unexpected, but it brought a smile to my face. Thank you for being very thoughtful.
2. Thank you for the surprise gift, I love it and I am glad to have had the best teaching experience with you.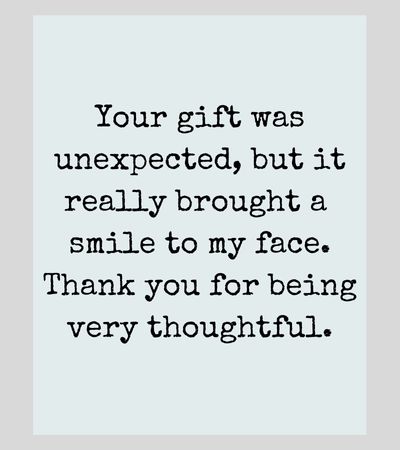 3. It has been an excellent year, having great students like you was more than a gift. Thank you for also another gift to my life.
4. I appreciate you for the time and the money you spared to get me such a lovely gift.
5. Words cannot be enough to thank you for the wonderful gift you gave me. You especially touched my heart.
Read: Thank You Message for Students from Teacher
6. Thank you my students for your gift. I am so proud to have been your teacher.
7. Your kindness and generosity will continue to touch people's lives in special ways.
8. I am grateful for getting a lovely gift for me. Continue with hard work and dedication and your success will also be another gift to me.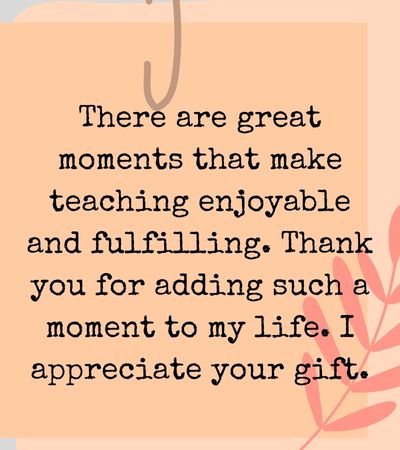 9. Not only are you talented and clever, but you are also kind. May abundant blessings come your way for choosing to touch the lives of people around you.
10. Your positive attitude is encouraging; your kindness is appreciated. You added a great memory to my life. Thank you.
11. There are great moments that make teaching enjoyable and fulfilling. Thank you for adding such a moment to my life. I appreciate your gift.
Read: Thank You Messages for Hospital Staff
Thank You Notes from Teachers to Students for Christmas Gifts
1. I love your Christmas gift, it added blessings to my holiday season. Thank you and stay blessed.
2. Thank you for the beautiful Christmas gift you gave me.  It will be a good reminder of how fulfilling it was to be your teacher. Thank you again!
3. As a teacher, I must admit that your Christmas gift was chosen with lots of kindness and creativity. Thank you for making my Christmas special.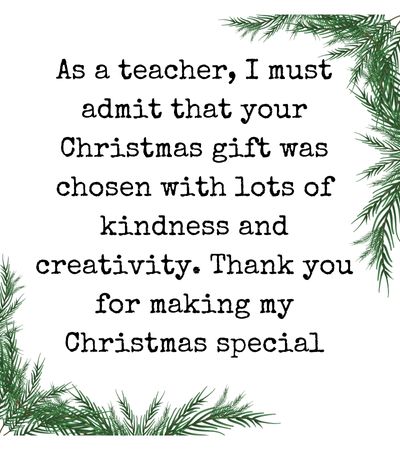 4. I am humbled for taking the time to get me a gift during this holiday season. You have always been an incredible student, and I am not at all surprised by your thoughtfulness.
Read: Thank You Note for Teacher from Parents
5. Several good people in life remind us to continue with the good work and I count you as such great people. Thank you for the Christmas gift.
6. My prayer for you is that you will meet special people who will touch your heart like the way you have touched mine throughout the year. I appreciate your gift.
Conclusion: Thank You Note from Teacher to Student for Gift
The above appreciation for a gift from a teacher to the student will not only help a teacher express her gratitude, but it will also help to enhance a better relationship.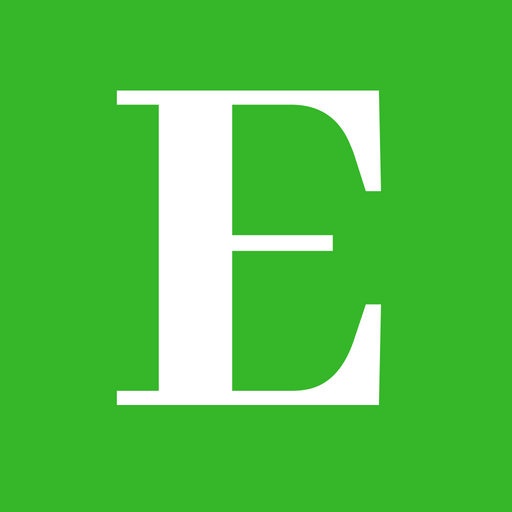 Betty is a qualified teacher with a Bachelor of Education (Arts). In addition, she is a registered Certified Public Accountant. She has been teaching and offering part-time accounting services for the last 10 years. She is passionate about education, accounting, writing, and traveling.