Funny Friday Quotes for Workplace: Occasionally Friday afternoons in the office are slow and the productivity level is lower than any other day of the week. If you want to add a smile to your colleagues in the workplace, we have compiled the best Funny Friday Quotes for Workplace.
Funny Friday Quotes for Workplace
1. "Friday is like a superhero that always arrives just in time to stop me from savagely beating one of my coworkers with a keyboard." – Rico
2. "Friday, a day that lacks no excuses for late arrival at the office and for early departure."
3. "It's Friday! Time to go make stories for Monday." —Anonymous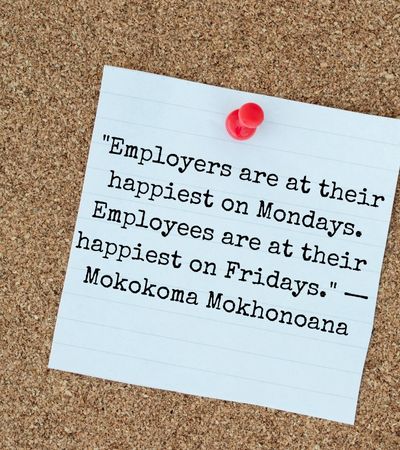 4. "I have never in my life found myself in a situation where I've stopped work and said, 'Thank God it's Friday.' But weekends are special even if your schedule is all over the place. Something tells you the weekend has arrived and you can indulge yourself a bit." —Helen Mirren
Read: Friday Quotes for Students
5. "When you leave work on Friday, leave work. Don't let technology follow you throughout your weekend (answering text messages and emails) take a break you will be more refreshed to begin the workweek if you have had a break." —Catherine Pulsifer
6. Ehh, it's Friday.." is a valid excuse for almost anything today."
7. "Life must be terrible for working people, considering they spend every Friday night celebrating a two-day break from it." – Robert Black
8. "There aren't enough days in the weekend." — Rod Schmidt
Funny Friday Quotes
1. "Friday sees more smiles than any other day of the workweek!"—Kate Summers
2. "If every day at work feels like a Friday, then you are doing what you were meant to do."– Alan W. Kennedy
3. Sometimes on a Friday, you feel like you want to take a break from your dreams and just ask where they are going so you can hook up with them later"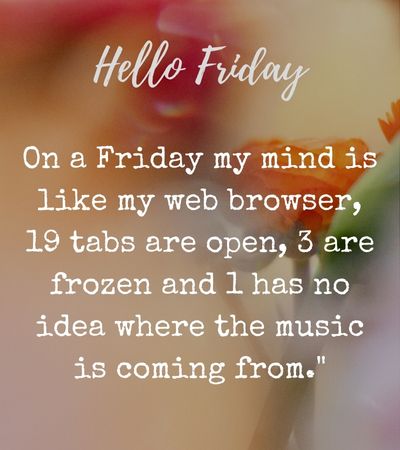 4. On a Friday my mind is like my web browser, 19 tabs are open, 3 are frozen and 1 has no idea where the music is coming from."
5. Life is too short, smile while you still have teeth
6. Friday proves that being a functional adult for 7 days a week is a bit more on the higher side
7. The brain is a wonderful organ, it starts working the moment you get up in the morning and does not stop until its a Friday
8. "Happy Friday! Here's to all of us who made it through another week of faking adulthood." – Nanea Hoffman
Read: Excuses for Being an Hour Late to Work
Funny Friday Quotes for Work
1. "Employers are at their happiest on Mondays. Employees are at their happiest on Fridays." —Mokokoma Mokhonoana
2. "Friday. The golden child of the weekdays. The superhero of the workweek. The welcome wagon to the weekend." —Anonymous
3. "Life is good, especially on a Friday." —Anonymous
4. "The weekends are too short for sleep!" —Bryant A. Loney
Read: Military Quotes About Teamwork
5. "If you must have motivation, think of your paycheck on Friday." – Noel Coward
6. "When you are unemployed, weekends are seven days long." — Mokokoma Mokhonoana
7. "I'm learning the power of going away for the weekend and keeping myself company." — Zoe Saldana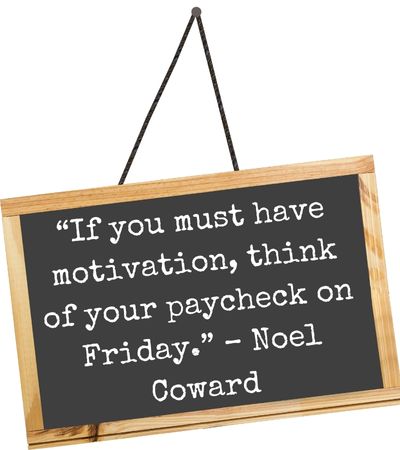 Read: Saturday Motivational Quotes for Work
Friday Motivational Quotes for Work
1. "Make today so awesome that yesterday gets jealous."
2. "You can't build a reputation on what you are going to do." – Henry Ford
3. "You learn more from getting your butt kicked than from getting it kissed." – Tom Hanks
4. "It always seems impossible until it's all done."
5. "The world is moving so fast these days that the man who says it can't be done is generally interrupted by someone doing it." – Elbert Hubbard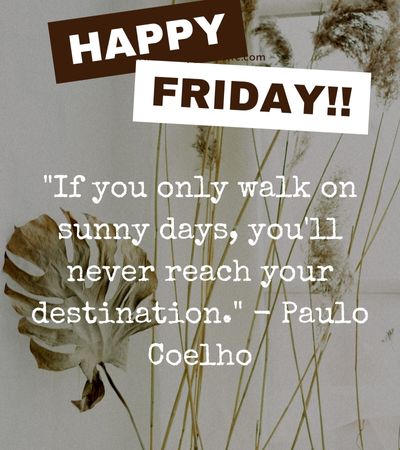 6. "You miss 100% of the shots you don't take." – Wayne Gretzky
7. "If you only walk on sunny days, you'll never reach your destination." – Paulo Coelho
8. "We're not here to take part, we're here to take over." – Conor McGregor
9. "I'm gonna turn my mentors into my peers."
10. "The number of people who stand ready to consume one's time, to no purpose, is almost countless." – Booker T. Washington
Read: Funny Debate Topics for Couples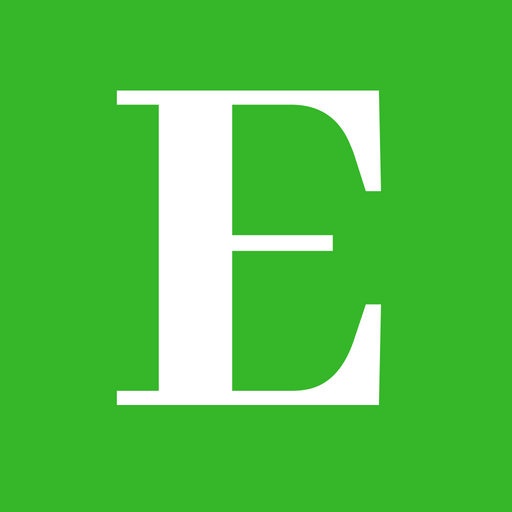 Betty is a qualified teacher with a Bachelor of Education (Arts). In addition, she is a registered Certified Public Accountant. She has been teaching and offering part-time accounting services for the last 10 years. She is passionate about education, accounting, writing, and traveling.