CBC Junior Secondary Subjects: Finally, you have graduated or your child has joined junior secondary and you want to know the subjects to be taught in junior secondary.
During junior secondary education, learners will have the opportunity to engage with a diverse range of subjects, providing a foundation for them to discover their aptitudes, individuality, and potential. This will enable them to make informed choices about which subjects to pursue based on their career aspirations as they progress to senior school.
To support this process, students in lower secondary will undergo an intensive career guidance program and receive exposure to subjects that are pertinent to their chosen career paths, empowering them to make knowledgeable decisions as they transition to senior school. Below we have clearly outlined all the subjects that will be taught at this level.
How many subjects will be taught in junior secondary?
It is good to note that students at these levels will be taught a minimum of 13 subjects and a maximum of 14. 12 subjects are core subjects while optional subjects can be one or two depending on the student's choice.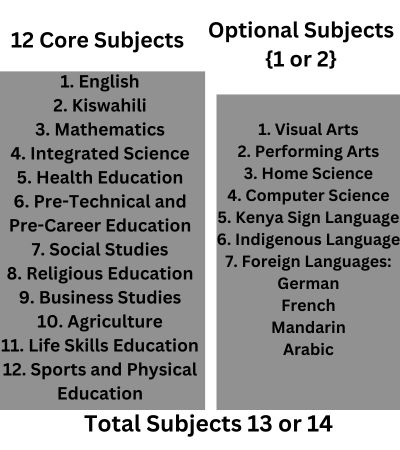 CBC Junior Secondary Subjects
Subjects for Lower Secondary School
The Subjects are in two groups; core and optional subjects. At this level, a broad-based curriculum is offered to enable the learner to discover their interests and potential as a basis for choosing subjects according to career paths of interest at the senior level.
Read: CBC Curriculum Structure
Core Subjects
Learners will be required to take the 12 core subjects as shown below
1. English
2. Kiswahili or Kenyan Sign Language for learners who are deaf
3. Mathematics
4. Integrated Science– Integrated science is a subject that combines concepts of physics, chemistry, biology, and environmental studies.
5. Health Education– personal and environmental hygiene, food and drink choices, food safety, communicable and non-communicable diseases, nutritional and lifestyle diseases and disorders, drug and substance use and abuse, laundry work, etc.
6. Pre-Technical and Pre-Career Education– this is a subject that introduces the learner to the technical, engineering, and career and technology studies (CTS) that are tracks within the science, technology, engineering, and mathematics (STEM) pathway.
7. Social Studies– subject will prepare the learner to be an active, informed, and responsible citizen;
a citizen who is willing and able to take responsibility for himself or herself and
fully engage in governance processes.
8. Religious Education – learners choose one of the following:
Christian Religious Education
Islamic Religious Education
Hindu Religious Education9. Business Studies
Read: Subjects to Be Taught in Senior Secondary
9. Business Studies
10. Agriculture
11. Life Skills Education– is aimed at enhancing; the knowledge of and appreciation of oneself as well as the need to value and promote good interpersonal skills.
12. Sports and Physical Education
NB: ICT will be a delivery tool for all Subjects.
Optional Subjects
Learners are provided with a chance to choose a minimum of one and a maximum of two subjects according to personality, abilities, interests, and career choices from the list provided.
1. Visual Arts
2. Performing Arts
3. Home Science
4. Computer Science
5. Kenya Sign Language
6. Indigenous Language
7. Foreign Languages:
German
French
 Mandarin
Arabic
Conclusion: CBC Junior Secondary Subjects
From the above list of subjects, it is clear that CBC aims to develop a student who is holistically developed to become a better citizen.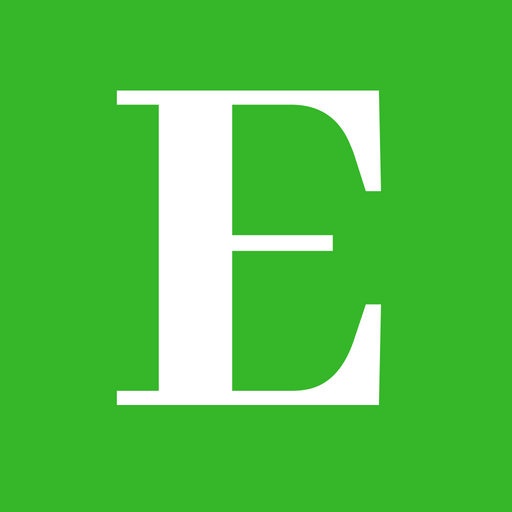 Betty is a qualified teacher with a Bachelor of Education (Arts). In addition, she is a registered Certified Public Accountant. She has been teaching and offering part-time accounting services for the last 10 years. She is passionate about education, accounting, writing, and traveling.