Get Well Soon Messages for Teachers: It is not unusual in school or college for a teacher, lecturer, or professor to become sick. As a student, you can take an opportunity and send your empathetic get well soon messages to your teacher. This article has some get well soon for teacher that you can send to your teacher. As you get a get well soon card for the teacher, you can include one of the below messages.
Get Well Soon Messages for Teachers
1. In these lowest moments of your life, I am wishing you a speedy recovery.
2. We are grateful to God for your successful surgery. Get well soon teacher.
3. Hope you will get better soon; it is always a delight to have you in class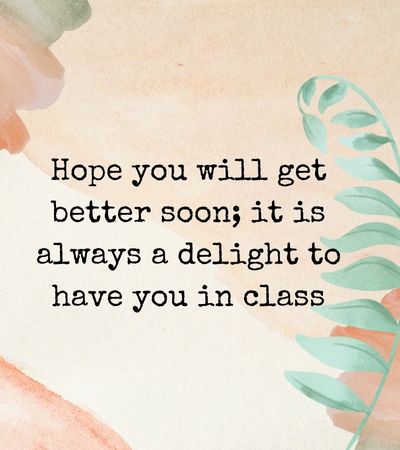 4. We hope to see you soon; may God restore your health.
5. Dear teacher, trusting for your full recovery. We are lucky to have you.
6. In the health challenge you are going through, I am hoping you will get well soon
7. Dear teacher, it has been a bravery journey fighting that sickness that is trying to bring gloomy day. Best recovery wishes to you.
8. Better days are waiting for you, get well soon teacher
9. We look forward to attending your lessons, quick recovery
Read: Get Well Soon Messages for Students
Get Well Soon Message for Teacher
"Dear teacher, it is heartbreaking to learn that you have been unwell for some time. Your absence couldn't go unnoticed and we wanted to let you know that we're thinking of you. As you receive your treatment keep in mind we are praying for you. Focus on getting better, and soon you'll be on your feet ready to inspire us and brighten our lessons."
Get Well Soon Card Ideas for Teachers
1. Let your spirit stay stronger, have a calm and speedy recovery
2. As you do your best to get better, we are wishing you the best, teacher get well soon
3. I know you have the courage and the will to get better. Best wishes on your recovery journey.
4. Have hope and faith that all will be well and you are soon getting back to college.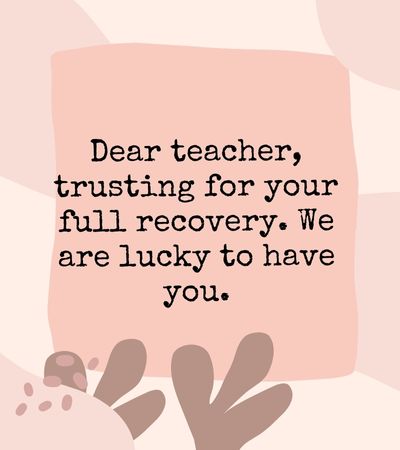 5. Every day we are expecting to see you in class. Get well soon, sir
6. Teacher, quick recovery! We miss you for the best lessons you always give us.
7. Do get well soon to come back to college.
8. Teacher, may God provide to you all what you need to recover well
9. You constantly give us unforgettable lessons and we miss you, speedy recovery.
Read: Get Well Messages for Coworker
Final Thought
When someone is not feeling well, get well soon messages can bring some hope and encouragement. As a student don't miss the chance to send get well soon card to your teacher.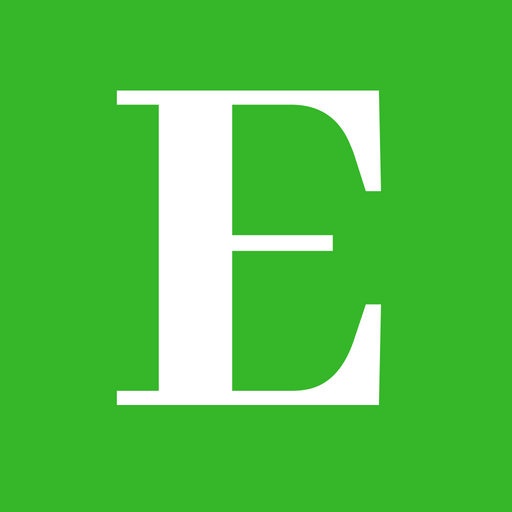 Betty is a qualified teacher with a Bachelor of Education (Arts). In addition, she is a registered Certified Public Accountant. She has been teaching and offering part-time accounting services for the last 10 years. She is passionate about education, accounting, writing, and traveling.